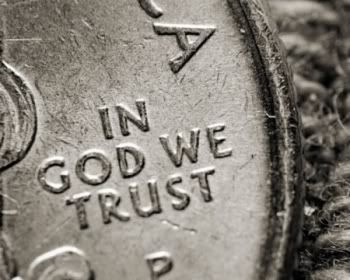 Tuesday's Trust
"In God We Trust" - Oh Really?!
Do You Trust in God...or a Belief System?
*****
God is always calling on us to do the impossible.

God through the angel Gabriel called on Mary to do what, in the world's eyes, is impossible. And instead of saying, "I can't," she replied immediately,

"Be it unto me according to Thy word."

...If Jesus of Nazareth was God become truly man for us, as I believe He was,




then we should be able...even to accept the Father's answer to our prayers when it is not the answer that we hope for, when it is No.




Jesus begged in anguish that He be spared the bitter cup and then humbly added,




"...but not as I will, Father; as You will...."
~Madeleine L'Engle, Walking on Water
*****
Typically, after the death of a child, our assumptive belief system is shattered. That's what's wrong–it is only a belief system.


We unknowingly turn a relationship with Jesus into a belief system....
One grieving mother said,
"I brought my kids to church. I thought I was a child of God, and I would be protected...."
Did God tell you that? That, if you have God in your heart, that you and your children would always be protected? Or is that what you were taught? Or is that what you assumed?
Remember:
You are not going to be comforted by a belief system.
You are not going to be changed by a belief system.
What happens to your faith when life "happens" and doesn't "fit" with what you've been told or with what you've assumed about your belief system?




What happens when we find we've developed faulty assumptive beliefs along the way that are messing with our faith when we need it the most???
*****
I was scared for my child. I was worried about my child. I loved my child. I was afraid for my child, that as she continued to act out, she would get more and more hardened to the Lord and wouldn't be able to see the error of her ways. Or even worse, that she might not ever return to Him. I was also afraid for my child's safety, that she could get raped, that she could get killed...
Two weeks before my child was killed, I went to God in grief and agony... As I was asking Him to please keep her safe and yet help her to "hit bottom" so that she would know she needed help. I was praying for strength to "Let go and let God," because I knew my tendency would be to grab her back up if times got any harder, and I knew the process of hitting bottom was very important to her growth and healing. I even said to God,
"I know things could get very, very ugly before they get better, and I don't want to interfere with Your work in her life."
Suddenly God began speaking to my heart. He asked me,
Do you know that I love you?
Yes!
Do you trust Me?
Y-e-e-es
Do you know that I love Merry Katherine?
Yes!
Will you trust Me with Merry Katherine?
Hesitantly, I said, Y--e--e--e--s
Then He asked the hardest question of me…


Will you give her to me?
More hesitantly, and clutching "her" close to my heart, I reasoned to myself,
"You know He loves her, even more than you love her. You know you can trust Him. You know you need to get out of the way to 'Let go, and let God'"...
So slowly, I pulled my clutching hands away from my heart and lifted "her" up to God, and said,
Y--e--e--e--e--e--e-s,
not quite knowing what He might do, or what He might let her go through to get her attention. But I truly knew He loved her and would take care of her and would walk her through her horrible situation.
(My assumptive belief too was that her safety here (on earth) was as important to God as it was to me: "Let her hurt enough to hit bottom, but not get really hurt...")
We talked... God and I talked. God remained loving, kind, helpful, but also true to His nature in what He already knew He needed to do to work in her heart. It was a relationship we had, a loving relationship with the Living God who is separate from me so I didn't know what all might happen, or what He might have to do,
but I knew

He loved her, and I knew I could trust Him with her.



But it was a relationship I was sharing with God, and He with me.




It was not just a set of spiritual beliefs...
*****
We can pervert God and turn Him into an object we think we can use at our disposal.
I have seen in my private practice in counseling, men who do that to their wives, turn them into an object–it doesn't work out so well for them. If a woman feels she has got to "put out" to keep her man happy, she has now been turned into a tool. But God didn't design her to be a tool. He designed her as a sacred being with a sacred capacity of responsiveness... –When that sacred capacity is violated: forced, or even manipulated to "put out" against her will, it perverts the very LOVE that God designed us for and so such manipulation and violation is the very recipe for d.i.s.a.s.t.e.r.
So too, we can wittingly or unwittingly turn God into an object, a tool for our own purposes, and that too is a recipe for disaster. God did not call you unto Himself for you to get easy formulas you can bank on. He says, "You cannot do this without ME, a continual dependence on Me– Yes, His Word says–
I can do all things

through Him

who strengthens me.
~Philippians 4:13 (NASB)
(Not just, "I can do all things." (making one powerful), but I can do all things through Christ who strengthens me (dependence on the All-Powerful).
And,
Yea, though I walk through the Valley of the Shadow of Death,
I will fear no evil,
FOR THOU ART WITH ME...
THY ROD (guidance), and
THY STAFF (pulling me back from dangerous paths),
THEY COMFORT ME.
~Psalm 23:4
*****
Madeleine L'Engle said,
During the question-and-answer period after a lecture, a young woman said to me,
'I read A Wrinkle in Time (L'Engle's book) when I was eight or nine.
'I didn't understand it, but I knew what it was about.'"
Madeleine goes on to say,






"As long as we know what it's about, then we can have the courage to go wherever we are asked to go, even if we fear that the road may take us through danger and pain."
So when He allows my child to be taken (in what I would consider) "before her time," and I cannot understand the sense of this...will I trust Him?
*****
My...grief is upon me; my heart is sick within me.
~Jeremiah 8:18
So in my grief ~ and yes, human that I am, I must progress through every nuance of grief, every question, every doubt, every fear, every agony, every hurt, every longing for her, every what-if / if-only, every traumatized reliving of her violent ending, every traumatized reliving of her self-destructive choices that led up to her violent dying, every angst, every tear ~ pouring all of these out before myself and before my Lord, I am not surprised that He doesn't answer every question in one fell-swoop. But rather, He comes to me to be with me in my grief and to challenge some of my faulty pre-suppositions, and to draw my heart back to Himself to rest in Him...
Because HE is the CENTER. HE is LOVE, HE is the COMFORTER, HE is the GREAT PHYSICIAN, and MORE THAN ANYTHING HE is the GREAT "I AM."




In His presence, in His love, in His shelter, I am secure, I am comforted, I can rest.
It is relational~a person-to-Person relationship that includes intimate interaction all grounded in Love. A system of beliefs is not relational. A system of beliefs will not comfort. A system of beliefs is not alive, organic, dynamic. A system of beliefs, if not placed before our Father for correction, reproof based upon His living Word can hold us captive and floundering in our grief. A relationship with God is about Love, and Love heals.
*****
As the child said to Madeleine L'Engle, in essence,
"I don't understand it, but I know what it's about."
I too say to my God,
"I don't understand it, but I know what it's about."
And as Mary said, and I would add to her statement...
"As long as we know what it's about, then we can have the courage to go wherever we are asked to go, even if we fear that the road may take us through danger and pain..."
...And terrible loss...
pictures thanks to photobucket.com
Madeleine L'Engle, Walking on Water