Friday's Faith
The Now...and the Not Yet
By faith, even amidst the worst grief known to mankind—that of child-loss grief, we do believe some portions of healing are available~though not complete healing this side of Heaven.






We believe the key is to keep the grief flowing, allowing God to hold us in His arms to love, to comfort, to reassure, to remind us of His paradigm shift—




The Now... and the Not Yet of Eternity.
We have many blessings here but not all the blessings God has in store for us. We know Jesus now, but we don't know Him as we will someday know Him—fully. There is still sin and evil in this world. The world is fallen — fallen from its ideal in creation, but one day it will be restored. Death, dying, sickness, grieving, crying are still here now. There will be a time it will be wiped away.
My baby girl was here~a little taste of Heaven on this earth. Now she is away. She died, and yet she lives. We are separated and yet she is with me in ways she couldn't be before

.
She suffered here. She suffers no more. I held her, nurtured her, loved her here~ We had long talks; we went on trips together~ we communed soul to soul. We talked about God, her life, her strengths, her weaknesses, her love for others, her friends whom she loved (and at times worried about), her boyfriend whom she adored and to whom she was lavaliered for quite awhile, then broken up, then reunited until she died two days later.
There was so much wonderful about her. Sweet, incredibly sensitive to others around her, amazingly steadfast as a friend, not the typical "catty" female like many girls her age. She loved, truly loved her friends and would stand up for them and fight for them to the end. She was very funny, loving to crack us up as well as cracking up her friends. She was festive about life. She was extremely active, into just about every humanly-possible feat! She was captain of her climbing team. She was an award-winning state champion on the track team for every year of her high school years.
And now she is gone. But not forever. And she is not sad. She is at peace. She is at rest in her soul. She is with our Lord. She visits me in her own spiritual way with her tender, sweet, and fun personality intact~even improved as no sin nature interferes with her sweetness! She is whole. She is not suffering. She is safe.
And God wants me to climb into her new reality. He knows it's a process

—

a process He meets me in and walks with me through.
The healing has been incredibly painstaking and seemingly slow. The grief is ever here but goes through many different phases.



A real key to my strength is her sweet smile showing up when I am absolutely crashing, and then the sadness disperses as quickly as the grief had hit me.
It seems the more I can "see" her alive, active, vital, the stronger I become. Horror, Excruciating Pain, Paroxysm Tears turn to peace, sweetness of "seeing" her, and yet still tears of missing her, and yes, times of angst but not always as agonizing or for nearly as long a period of time as before.
A client who knows me well said today she really doesn't "get" me writing in my blog so regularly. I don't think anyone could "get" that but other grieving mommies and daddies who know—our pain is ALWAYS there, and the pain ALWAYS has got to flow, and if my writing can HELP anyone else, that soothes my heart to think I might be able to lift a corner of someone else's pain for a few moments at a time. And so I write...
❤
♥
And I thank you
—
so much
—
for those of you who listen...
♥
❤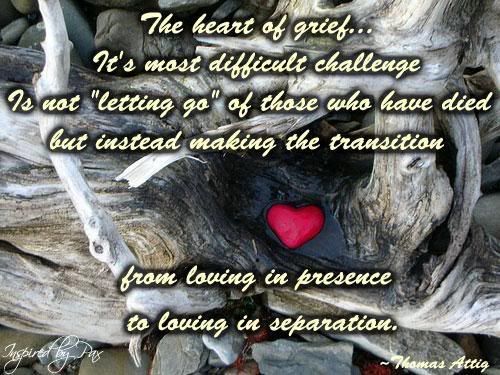 *****
"... (God) crowned (Jesus) with glory and honor and put everything under His feet."
In putting everything under Him, God left nothing that is not subject to Him. Yet at present we do not see everything subject to Him. But we see Jesus, who was made a little lower than the angels, now crowned with glory and honor because He suffered death, so that by the grace of God He might taste death for everyone.
In bringing many sons to glory, it was fitting that God, for whom everything exists, should make the author of their salvation perfect through suffering...
Since the children have flesh and blood, (Jesus) too shared in their humanity so that by His death He might destroy him who holds the power of death

—

that is, the devil

—
and free those who all their lives were held in slavery by their fear of death. For surely it is not angels He helps, but Abraham's descendants. For this reason He had to be made like His brothers in every way, in order that He might become a merciful and faithful high priest in service to God, and that He might make atonement for the sins of the people.
~Hebrews 2:8-10,14-17 NIV
Now the dwelling of God is with men, and He will live with them. They will be His people, and God Himself will be with them and be their God. He will wipe every tear from their eyes. There will be no more death or mourning or crying or pain, for the old order of things has passed away.
~Revelation 21:3b-4 NIV
*****
Thank You, Lord, for Your amazing love and tender mercies to us. Thank You that our baby girl rests safely in Your arms, and for ever impressing that upon my grief-torn heart. Thank You for giving me a sense of her peace and happiness, and for Your faithfully walking me through this terrible grief, helping me to place my faith and trust in You, learning to trust Your mysterious ways.
Please bless all of our precious grieving readers who come to this blog~there are so many hearts full of pain over the loss of their beloved child. Please give them Your gracious and loving comfort, and continue to bring them Your healing and Your reassurances each and every day. Help them to have Your peace that passes understanding - even, and especially, in this, their terrible grief.
For it's in our Savior's name who lovingly gave His own life for us and for our children that I pray, Amen.
Pictures thanks to photobucket.com